There are many differences between a traditional project manager and a scrum master as it relates to their methods of operation, skills, techniques, responsibilities, and leadership. The duality of the project manager and scrum master are sometimes confused as being interchangeable, but they are two quite distinct roles. Both are important and have a clear purpose in an organization where there is the alignment of needs and goals.
Methods of Operation
Traditional project management uses a predictive (waterfall) method. This means project managers apply a defined process within a project life cycle (PLC) to manage a project from beginning to end. The primary focus for a project manager is to ensure the project runs smoothly through the process groups including initiation, planning, execution, monitoring, and controlling.
A certified Project Management Professional has expertise in knowledge areas including integration, scope, time, cost, quality, human resources, communications, risk, and procurement as defined in the Project Management Institute's Project Management Body of Knowledge (PMBOK®) Guide.
Scrum is an adaptive (agile) framework which is a repeatable, iterative process allowing for flexibility and the ability to respond to change. Scrum masters do not manage a project like a project manager but guide the scrum process and values so that the scrum team can manage the project or product process collectively.

The scrum master is an agilist who promotes the principles of agile within the team and throughout the organization. They often facilitate scrum events, including sprint planning, daily scrum, sprint reviews, and retrospectives as described in the scrum guide. However, their responsibilities go far beyond facilitating meetings. Scrum masters' core competencies should include teaching, mentoring, and coaching.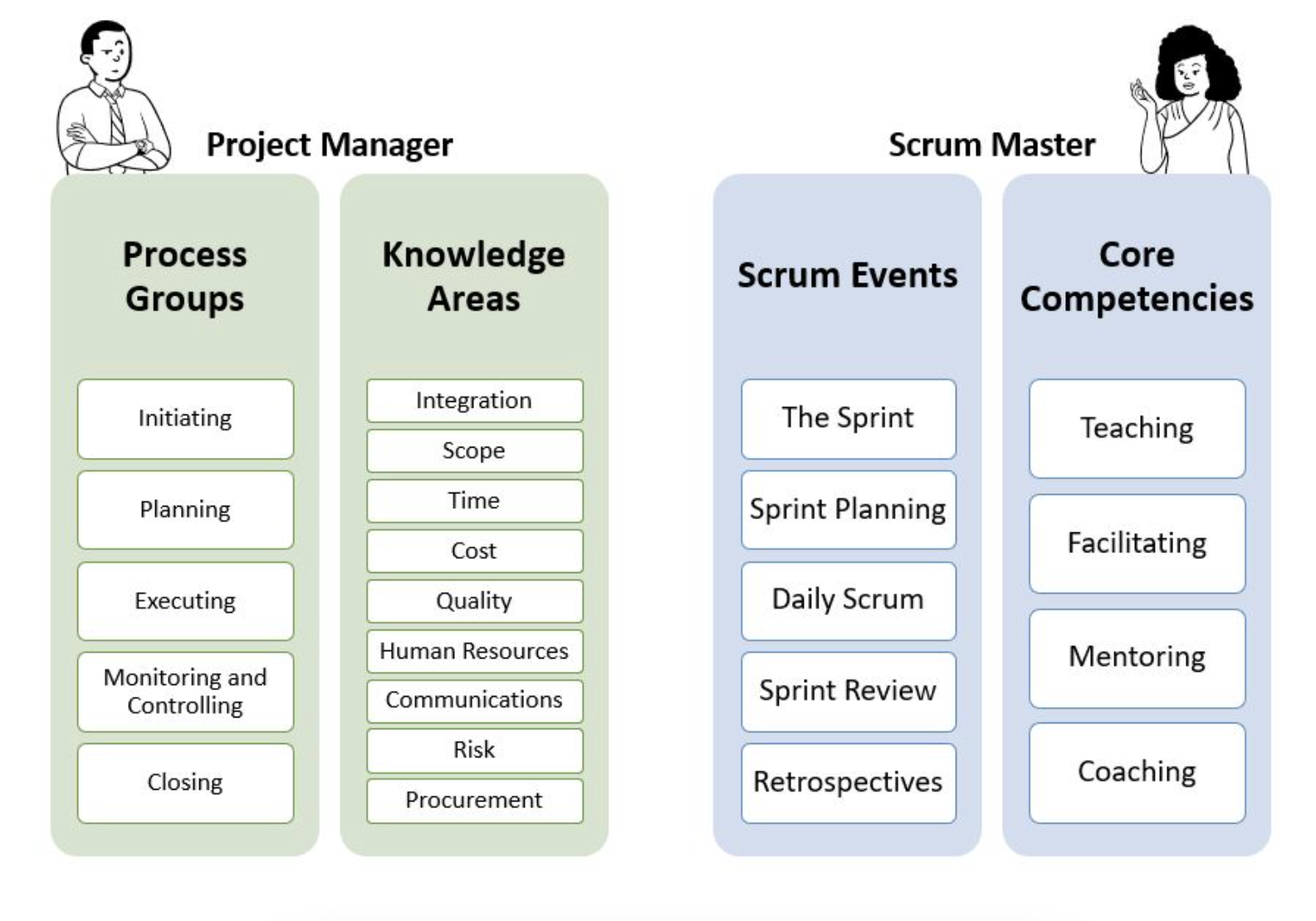 Skills and Techniques
Project managers and scrum masters share similar qualities, but their skill sets and techniques may differ. For example, they both utilize facilitation practices for teams and meetings; they are both organized; effective with their communication; have interpersonal skills; and are leaders who know how to manage conflict. Here are some examples of skills and techniques specific to the project manager and scrum master role:
Project manager
Applies critical thinking skills for decision-making
Leverages problem-solving techniques for issue resolution
Uses analytical skills for risk detection and mitigation
Effectively communicates project/team performance to leadership
Manages project team and stakeholder expectations
Scrum master
Clearly presents scrum/agile concepts through teaching and coaching methods
Leverages facilitation techniques during scrum events/meetings
Selects situational coaching stance to use with individuals or teams
Identifies when to use experiments for learning and solutioning
Promotes a positive culture by creating a safe space
Responsibilities
Project managers have several responsibilities within a project from initiation to close out with a focus of meeting project objectives and deliverables. Their primary goal is to ensure that the project is successful from a scope, schedule, budget, and quality perspective while managing change.
Scrum masters coach and mentor; they are responsible for ensuring scrum as a practice is understood and followed by the scrum team while promoting the principles of transparency, inspection, and adaptation. Their primary focus is supporting the scrum team to effectively deliver a high-value product increment through continuous improvement. The scrum master cultivates an agile mindset and serves as a change agent for the organization.
The tactical differences of responsibilities between project managers and scrum masters are categorized below into three fundamental areas: interactions with people, processes, and tools. Here are examples of their responsibilities.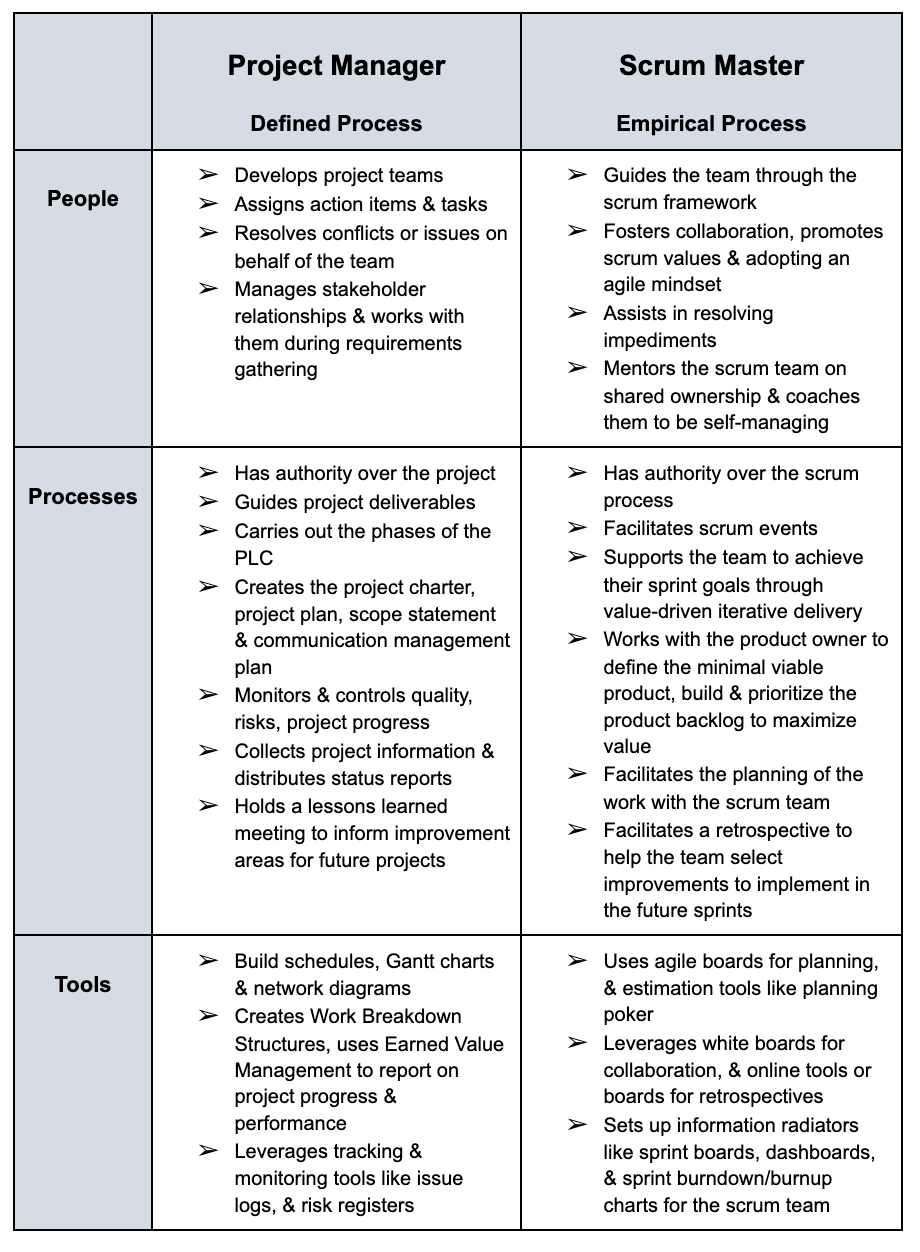 Leadership
While both project managers and scrum masters need to have soft skills to be effective, the approach varies between the two roles when it comes to their leadership styles.
A project manager:
Is a high-profile role that drives all areas of the project
Clearly communicates project vision and goals
Influences the project team on what needs to be done
Makes decisions and delegates tasks
Scrum masters are leaders who serve (this is also known as "servant leadership" in the pre-2020 Scrum Guide).
| "Scrum Masters are true leaders who serve the Scrum Team and the larger organization." – The 2020 Scrum Guide™
A scrum master leads in a supportive capacity by:
Advising on the implementation of scrum
Advocating principles throughout the organization
Influencing scrum teams to be self-organized/self-managed
Protecting them from external disruptions to enable focus
In Summary
Project managers are traditional leaders that drive project deliverables from start to finish. They initiate, plan, and execute projects using a command style to control scope, schedule, and budget so that projects can be successful. Project managers perform closing activities including holding a lessons learned meeting at the end of a project.
Scrum masters are agile leaders that serve the scrum team and organization as change agents. They coach scrum teams to be effective using the scrum framework so they can continuously deliver value. Scrum masters not only facilitate meetings, but they also empower the scrum team to collaborate and self-manage while coaching on scrum principles and values. They promote continuous improvement with each sprint.
Accountability
In project management, accountability lies with the project manager, including (but not limited to) scope, schedule, budget, quality, risk, and communications. They must ensure the delivery of information, and performance for the overall project. However, the activities within each of these areas is the responsibility of team members and stakeholders.
In scrum, there is shared accountability. The product owner is accountable for maximizing the value of the product, the scrum master is accountable for making sure the organization effectively adopts scrum as a practice, while the developers are accountable for delivering the incremental product backlog items. Scrum masters encourage the team to be accountable to each other.
Measurement of Success
Project managers are successful when projects result in on-time, on-budget delivery for the agreed upon scope. A project manager tries to prevent project failure with heavy planning and documentation at the beginning of a project. They follow progress closely during the monitoring and controlling phase by mitigating risks to drive success.
Scrum master success is measured by the team's success in how efficiently they deliver value, working cohesively together, and how well they execute on the product goal. The agile principles of failing fast, learning by discovery, and continuous improvement allow for the flexibility to pivot. The scrum team is successful by the quality of the product increment delivered and customer satisfaction.